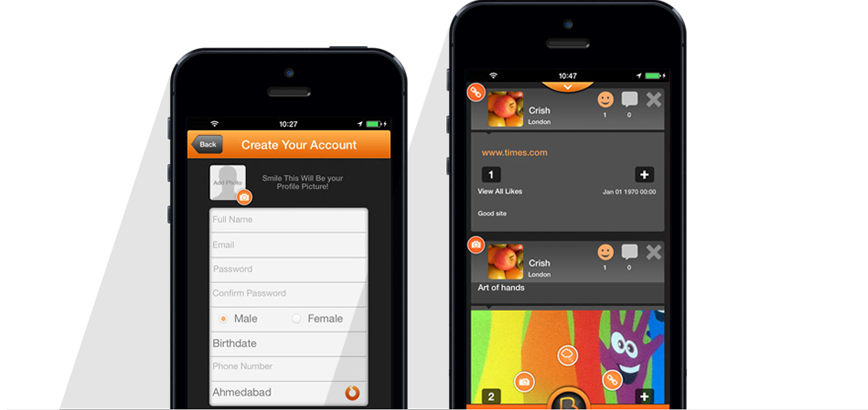 The Problem
The Client approached IntegrateX, with the crystal clear concept of creating a social networking iPhone application, which could allow users to share multimedia content via message, photo and links using a shared platform. IntegrateX has provided a simplified version of the iPhone application, which helps the user inspire action.
Solution
IntegrateX has set the foundation of the whole concept of the shared platform based on a social networking and implemented the key features outlined below: Photo Sharing: This feature can share pictures and add several effects and filters. The user can also take advantage of sharing on Facebook and Twitter. Status Sharing: This feature can share the status, along with the location through contacts, as well as Facebook and Twitter friends and followers. Link Sharing: This feature can share a link along with a brief description in apps including Facebook & Twitter.
Result Obtained
IntegrateX has adopted SDLC and delivered the project on-time without compromising on quality. The client wants sustain customers keeping them engaged and active. This app: Improves the user experience – We have used a simplified version of this application to help improve the user experience. Designed with a scalable architecture – We have implemented scalable & flexible architecture to add more features in subsequent phases. Security and privacy – We are delivering an application with data protection and privacy for user content.
ROI and Benefits
The application helped the client stay ahead in the competitive market by sharing photos, statuses and links with a streamlined,simplified functionality. The client will receive funding application and plans to extend the functionality in the next phase.
Gallery
Other Case Studies
Ometi™ – A complete IT solutions provider

Ometi is based in Kuwait. The company boats years of extensive experience in providing web, mobile,... Continue reading

Indo-American Pharmaceutical Society

IAPS is a non-profit organization of pharmacists of Indian origin in the tri-state area. It... Continue reading

TeleSign

TeleSign solutions provide an easy-to-implement method and a powerful scheme for identifying and... Continue reading